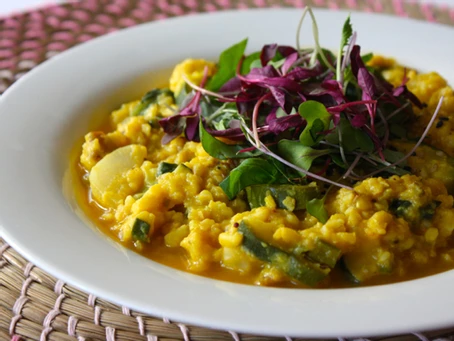 Late Winter & Spring Kitchari
Sep 12
This is the time of year my sinuses tend to explode. A sure sign it's time to cleanse. Today I made my first spring batch of kitchari (also spelt kitcharee and kichadi). This is a simple, delicious and nutritious Ayurvedic recipe, used in cleansing and detoxifying the body. It is a perfect meal to help reset your digestive system, and nourish your bodily tissues – you'll be smiling on the inside 🙂
There are loads of variations of kitchari, however, the recipe I use always calls for moong dahl (mung bean) and basmati rice, cooked with various spices (seasonal vegetables optional). I prefer moong dahl as is its incredibly gentle on the stomach (especially if split/washed). This particular recipe is intended to be eaten in late winter season and into mid spring – the selected spices help to break up mucous/stagnation (kapha) which has built up over the colder months. It also helps keep the digestive fire (agni) and other doshas/constitutions in balance, making it an all-round winner whatever your body type.
*SERVES 6 APPROX
INGREDIENTS
2 tbsp ghee or coconut oil
1 tsp cumin seeds
1 onion (chopped finely)
1 garlic clove (chopped finely) – optional
1 tsp finely chopped ginger
1 tsp ground or freshly grated turmeric
1 tsp ground fennel seeds
1 tsp ground coriander seeds
1 tsp seasonal mix – optional
1tsp salt
Yellow or green split moong dahl (mung bean) – 1 cup (soaked for 2 hours minimum, wash/drain well)
Basmati rice – 1 cup (soaked for 2 hours minimum, wash/drain well)
4 – 6 cups of water
Fresh coriander (a handful, lightly chopped) & lemon juice – to garnish
Seasonal Vegetables (optional): Eg. Spinach, Kale, asparagus, green beans, peas, okra, beets, broccoli, brussel sprouts, eggplant, carrot, cauliflower.
METHOD
Heat ghee (or oil) on medium heat, using a heavy-bottomed pot.
Sauté cumin and garlic until the seeds pop.
Add ginger then onions. Cook until lightly golden.
Add the rest of the spices and salt & cook for 1 minute
Add dahl & rice. Mix well.
Add water & cover. Bring your kitchari to a boil on high heat. Then immediately turn the heat down and let it simmer, until both the rice and dahl are mushy. If using them, add seasonal vegetables when turning heat down to simmer. However, add leafy greens just before serving, so they wilt but don't over cook.
Add more salt to taste if required, stir through.
Garnish with fresh chopped coriander & freshly squeezed lemon juice, when serving. Note; these two ingredients are key as they support your digestion
NOTE:
– If suffering from diarrhea, use more rice & less dahl
– If cleansing or constipated, use more dahl and less rice
– Kitchari is the best Ayurvedic meal for gentle detoxification
– Excellent for those suffering from weak digestion, gas, hyper-acidity & ulcers (use split/washed dahl where you can)
– Vegans can use rice bran, flaxseed, or coconut oil, instead of ghee
– Green or yellow moong dahl is fine
– Use less water in the recipe if soaking time is longer
#ayurveda
#ayurvedic
#cleanse
#detox
#digestion
#dosha
#food
#kapha
#moongdahl
#mucous
#mungbean
#recipe
#springcleanse
[addtoany]