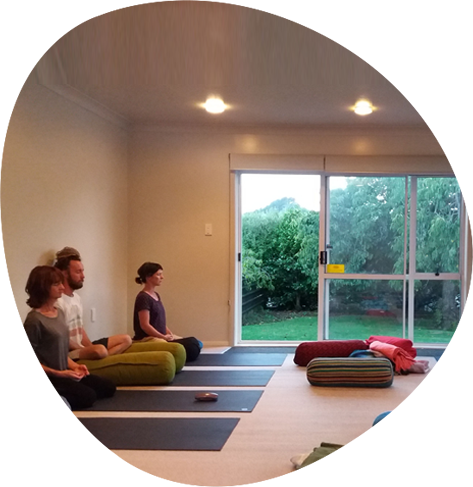 Meditation Course
A six-week guided breathing and meditation course to help you bring balance and clarity to everyday life.
Upcoming Course : 2022 COURSE DATES ARE CURRENTLY ON HOLD. PLEASE JOIN US 7PM MONDAYS FOR OUR FORTNIGHTLY MEDITATION GATHERINGS – ALL WELCOME. MORE INFO/DATES CAN BE FOUND ON 'CLASSES' PAGE.
When : Every Monday, 7:00-8:15pm
Where : Movement First, 23 Derby St, Gisborne
Cost : $95 for six classes
Join me as I lead you through 6 weeks of opportunity to establish or deepen your meditation practice. Classes combine guided breathing practices and accessible meditation techniques that you can apply into your daily life.
If you've ever wanted to experience meditation or are looking for a supportive and friendly space to assist with your regular meditation practice this is perfect for you.
Once you submit the form below, you'll receive an email within 48 hours to confirm your place. I look forward to working with you. Alternatively, you can call me to reserve your spot – 021913 318.
Bookings essential.
What people say
Lassara Hall

Shiatsu practitioner & Yoga Teacher

"Rebecca's classes offer the student three traditions of yoga – pranayama (breath), asana (movement) and meditation. This combination raises the class from another type or form of exercise to a holistic therapy, which incorporates the entire wellbeing of the student."

Marie Solier

Osteopath & Yoga Teacher

"Becs is a passionate teacher dedicated to yoga, her personal practice, and her students. I attended her 6-week meditation course, during which Becs thoroughly delivered practical tools whilst keeping theory & philosophy accessible. Each class was workshop quality. Becs has a gift with words. If you are lucky to attend one of her Yoga Nidra, this will feel like a nurturing treat you gift yourself."

Jenny Bain

"Learning about my body, hearing and trying to understand is the best gift I can receive. Becs has given me tools to grow and learn that you're never too old to shift into a more easeful way of living. Good Change is a journey into oneself and not intrusive just one foot in front of the other!"

Colleen Robinson

"I feel more alive now, I am not tired all the time, more aware of how what I do affects the way I feel. Having some decent sleep is fantastic, and I feel more focused, and am completing tasks and projects that I had been procrastinating about. I am more in control of my life now and feel like I am achieving more."

Kaz Jones

DoTerra Ambassador

"Prior to Good Change I had a never ending list and decreasing fuel to accomplish it with. I have learnt to "stop", "breathe" and look after my body with the correct fuel and when to incorporate good habits throughout my hectic day. The result is a more nourished mind, body & soul to get through my day more effectively."